Supporting musicians
Seaview Studio Studio is a full service recording studio, owned and operated by Tim Smith & Sophia Stutchbury. Located in the world's first Music Town – Folkestone, there isn't a better place to develop your music.
The recording studio is fully equipped for multi-track recording, complete with vocal isolation booth, a suite of microphones and the latest Virtual Studio Technology. The combination of analogue and digital technology offers tantalising prospects for music production.
Our team have the capability to support artists and track development at whichever stage of the creative process you may be at. Our established, highly skilled music producers, writers and session players know what it takes to bring music to life and are able to deliver.
Our Vision
To facilitate the creation of beautiful music, supporting artists across all genres and developing the music scene as a whole in our beloved Folkestone Music Town.
Core Values
The song is the priority
Music to move and inspire
Integrity in the music business
Collaboration enriches creativity
Recording Studios
Seaview Studio is a music recording facility with 1 control room, 1 live
room, 1 vocal booth and a rehearsal room.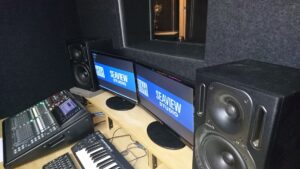 Studio Control Room
Seaview Studio is a state-of-the-art music and post production studio. Equipped with digital/analogue hybrid mixer and audio interface, a comprehensive suite of virtual synthesizers and sample banks, Seaview Studio is the place to record, write and lay down music in all genres. Whether your music is destined for commercial release, synchronisation or corporate usage, we can help you deliver the finished article.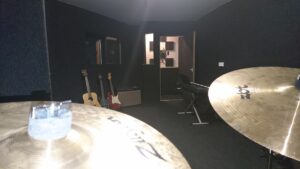 Studio Live Room
Seaview Studio live room is equipped to accommodate multiple players for multi-track recording. The built-in vocal booth ensures isolation for clean, quality vocal recording.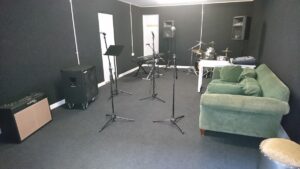 Rehearsal Room
Seaview Studio's rehearsal room offers a safe space to write, experiment, practice and generally make noise without fear of upsetting neighbours. Complete with PA, Mic's, instruments and tea & coffee, the space is a comfortable place to be and ideal for creatives to develop their art and hone their craft.
Our History
Folkestone music being on the rise, it made perfect sense for Tim & Sophia to relocate their studio operation.
November 2017
Fitting out the new studio begins . . .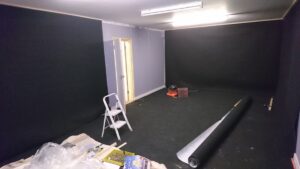 "Having the shell of a building to fit-out and design as we pleased was a real advantage for us to make our space tailor-made." Technical Finger
February 2018
Back in business . . .
With construction work complete, Sophia Syndicate waste no time in recording their latest single and shooting a music video in the shiny new Seaview Studio.
December 2017
Out of the old, into the new. . .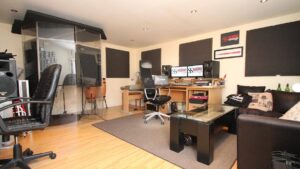 Tim & Sophia up sticks and relocate to the newly built music recording and production facility, Seaview Studio in Folkestone.
March 2018
The story continues . . .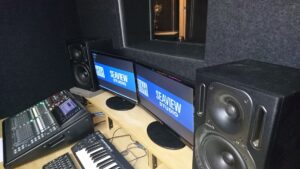 Since opening the doors, Seaview Studio continues to support artists with music recording, production, video, social media, online promotion and live events.
Want to Record Your Own Hit?
We are a full service studio featuring the latest technology for our all your projects.
Tim – 07877 594555, Sophia – 07977 233385
Our Team
At Seaview Studio, our aim is to deliver the best quality, cutting edge audio
Technical
Finger
Music Producer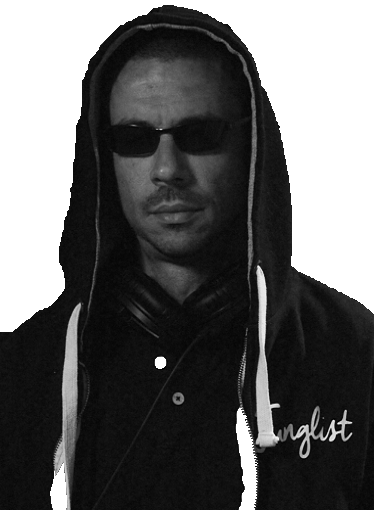 Seaview Studio's in-house music producer, Technical Finger, has over 20 years experience of music production, songwriting and live sound engineering. Working as a club DJ, he has also performed across the country and internationally. Often working behind the scenes to support other artists and DJ/Producers, his work has been featured on BBC Radio 1, 1Xtra, Rinse FM, Choice FM and many more. Commercial releases and remixes include tracks on Grid Recordings, Zombie Records, Reformed, Audio Rehab, Beat Culture and Patrik Remann Music Group, to name but a few.
As a songwriter, he has written with and worked with writers and artists in various genres, collaborating with writers whose credits include Celine Dion, Cher, Rod Stewart, Cliff Richard, Paul Young and a host of other household names. Combining knowledge gained through academic channels, collaboration with major label writers and first-hand industry experience, Technical Finger is well-placed to be able to facilitate artist development.
Working as Front-Of-House sound engineer for live gigs, as well as promoting events and club nights both independently and collaboratively, has given Technical Finger a unique perspective on the entire process of how music is created, developed, released and performed. This knowledge and experience provides the ideal foundation to support artists and writers in making their dreams and aspirations a reality.
Our Artist Development packages are tailored to your individual needs. Whatever stage you are at in your creative process, we can help you get your music finished, released and promoted. You may only have a few notes scribbled for a song idea or even a demo version of an intended release that needs to be professionally recorded, produced, mixed and mastered. Our team can support the completion of your project. Book a FREE CONSULTATION to see how we can help you and formulate an action plan to take your music to the next level.
Sophia
Stutchbury
Singer/Songwriter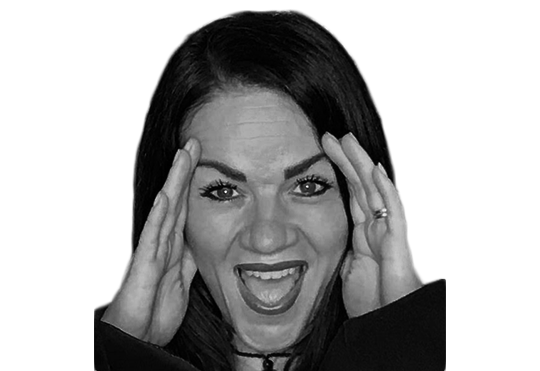 Sophia Stutchbury is a singer, songwriter, topliner and vocal coach. She is also the lead singer of Sophia Syndicate.
With many years experience in the music industry, she has worked with writers and musicians behind Frank Sinatra, Sammy Davies Junior, Celine Dion, Mike & The Mechanics, Cher, Andrew Lloyd Webber and many more.
Success has seen tracks reaching No 2 & 3 in the Beatport charts, No 8 in the Music Week Charts and No 18 in the Scottish New Music Global Charts.
A distinctive voice and ability to compose lyrics and melodies for almost any genre, Sophia writes for herself as well as other artists and corporate clients.
Commercial releases can be found on all major music platforms including iTunes, Amazon, Spotify, Youtube, Deezer and many more.
Sophia runs Seaview Studio in Folkestone, Kent, UK, along with her husband and business partner Tim Smith (Technical Finger).
They work on a wide range of musical projects, artist development, coaching and events.